The identification of capital is carried out as part of the business model. As capital, the PKP CARGO Group understands and treats all resources used and transformed to increase the value of the company. The capital transformation process is illustrated in detail by the model of value creation. The value creation model shows how PKP CARGO Group is implementing the strategy, translated into specific business and management activities, the Group changes the available resources into results.
The business model of the PKP CARGO Group is based on the implementation of the main activity ie rail transport of goods complete with additional services. In order to efficiently carry out activities, the Group uses the available capitals and allocates them in the most effective manner possible. To define the capital, the PKP CARGO Group uses the IIRC (International Integrated Reporting Council) terminology and guidelines, which talk about possible 6 types of Capital:
Financial capital – understood as all financial resources, funds, loans and other sources of financing as well as equity and foreign capital.
Production capital – material resources possessed, including: permanent assets, real estate, and assets used to carry out business activities - locomotives, wagons, infrastructure utility objects, all machines used, for example, to modernize and repair rolling stock.
Human capital– understood as human resources, meaning employees and their competences, skills.
Natural capital – all natural resources that the PKP CARGO Group uses to implement business activities. Within this capital, the Group identifies processes and expenditures on environmental protection, types of waste generated in the process of implementing operational activities, and others.
Intellectual capital – resources owned by the Group based on knowledge, experience, patents, innovative solutions, rights and licenses, certificates and other.
Social capital – developed trust and relationships with contractors and stakeholders, local communities.
Capitals often mean values and material resources, but also those that are immaterial. The capital used and monitored by the PKP CARGO Group include:
* cash and cash equivalents , term deposits above 3 months
Investment expenditures in PKP CARGO Group (m PLN)
Maintaining the rolling stock of the PKP CARGO Group is carried out primarily through repair points operating within the structures of the PKP CARGO Divisions and in subsidiaries. The rolling stock maintenance facilities of the PKP CARGO Group have competences and expertise in the field of repairing wagons and electric locomotives at all maintenance levels P1 - P5 and repairs of diesel locomotives at the P1 - P4 level. In addition to the rolling stock owned by the PKP CARGO Group, the Group's facilities also perform repairs to rolling stock and parts belonging to other owners.
Wagons and rolling stock are the main elements of the production assets of the PKP CARGO Group. Changes in the rolling stock stands result directly from activities such as cassation and sale of rolling stock and the purchase of rolling stock. In addition, locomotives are modernized, which have no impact on the overall balance of rolling stock, but have an impact on the change in the age structure and in some cases cause a change in the number of series, when the series of locomotive and destination changes as a result of modernization.
In 2018, the number of locomotives in the Group increased. This increase is directly related to the constantly improving economic situation on the railway transport market - to meet the high demand for transport services provided by the PKP CARGO Group, it increased the used rolling stock to 2,352 locomotives.
The reduction in the registered number of wagons resulted from the sale of more than 2,000 train cars by the Company- freight wagons of type G (G-type wagon), T (T-type wagon) and U (U-type wagon). Sold wagons were not used for a long time by the Company due to their current technical condition, as well as their design, purpose and type of used loading and unloading technology.
Number of train cars - wagons owned
Number of train cars - wagons leased
Real estate - land - owned, in perpetual usufruct and leased from other entities (ha)
Real estate - buildings - owned, leased and rented from other entities (sqm)
Number of employees in the PKP CARGO Group
Form of employment contracts in the Group*
* the data does not include the employment by companies owned by PKP CARGO CONNECT
Gender and education among employees in the Group*
* the data does not include the employment by companies owned by PKP CARGO CONNECT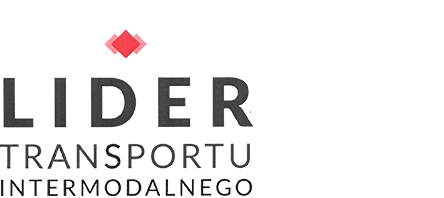 Leader of Intermodal Transport

PKP CARGO S.A. and PKP CARGO Centrum Logistyczne Małaszewicze Sp. z o.o. were awarded the "Leader of Intermodal Transport" award in the categories "Rail Operator" and "Land Container Terminal", respectively.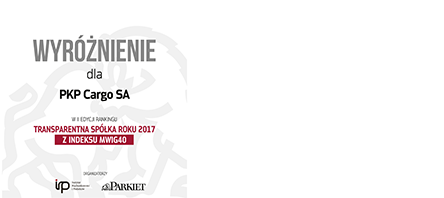 The Transparent Company of the Year

The "Transparent Company of the Year" is a ranking compiled by the Investor and Stock Market Magazine "Parkiet", together with the Institute of Accounting and Taxes. The purpose of the ranking is to find the most transparent companies from among the companies of the three main stock market indexes (WIG20, mWIG40 and sWIG50), based on a questionnaire survey covering such areas as: financial statement and reporting, investor relations and corporate governance.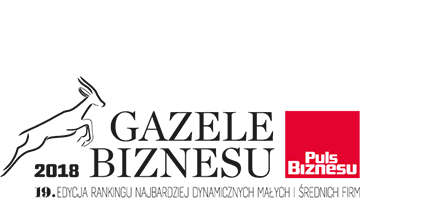 Business Gazelles

In 2018, PKP CARGO SERVICE was recognized with the prestigious award and joined the ranking of the Business Gazelles, i.e. the ranking of the most dynamically developing Polish small and medium enterprises.

Reliable Company 2018

PKP CARGO SERVICE Sp. z o.o. was awarded the "RELIABLE COMPANY" certificate, which attests to the reliability and credibility of the enterprise. To join this group of honored companies, such requirements must be met as: promotion of pro-environmental and pro-social activities, abiding by the rules of fair competition, and timely settlements with counterparties and employees.
Natural capital

GRI 102, 102-12] The Company's environmental policy forms an integral part of its overall corporate management system. The strategic objective for responsible actions taken by PKP CARGO S.A. in the field of environmental protection is to ensure a safe carriage of merchandise using rolling stock that meets the applicable environmental requirements. The Company invests both in the purchases of new rolling stock and in the modernization of its existing rolling stock as well as in maintenance and repair facilities and devices for diagnostics of the Company's rolling stock. These efforts are aimed at achieving high standards of rolling stock maintenance and protecting the natural environment against the possible consequences of breakdowns and accidents involving the Company's rolling stock.
The environmental review process
In the process of environmental review (conducted on an annual basis), the effects of the Company's environmental initiatives are evaluated and specific environmental targets and tasks are formulated for subsequent years according to criteria selected based on:
Environment risks have been defined in the "PKP CARGO S.A. risk management policy" in the context of environmental processes such as:
managing emissions into air from technology processes and burning fuels in installations and equipment;
managing equipment containing substances that deplete the ozone layer and fluorinated greenhouse gases;
managing water and sewage;
managing produced industrial and municipal waste;
managing noise emissions to the environment;
managing green areas and taking action in case of damage to the environment.
The purpose of monitoring the above-mentioned categories is not only to have knowledge about the magnitude of environmental impacts by tracking the assumed measures, but also to implement the environmental protection program in order to obtain improvement of emission rates (energy intensity).
Every year, by introducing goals and tasks in significant aspects in accordance with the adopted classification criteria, the Company reduces the impact on the environment. Below we present selected natural capitals:
Substances emission (t)
| Name of substance, emission in total (t) | 2016 | 2017 | 2018 |
| --- | --- | --- | --- |
| SULFUR DIOXIDE | 1,151 | 1,159 | 4,369 |
| NITROGEN DIOXIDE | 3,172 | 3,418 | 9,040 |
| CARBON OXIDE | 807 | 758 | 657 |
| CARBON DIOXIDE | 518,342 | 527,787 | 624,717 |
| BENZO[A]PYRENE | 0 | 0 | 2 |
| DUST AND SOOT | 259 | 262 | 447 |
| TOTAL HYDROCARBONS | 356 | 455 | 467 |
| HFC | 0 | 0 | 0 |
| OTHER | 16 | 35 | 46 |
Expenditures incurred for environmental Protection in Group (ths PLN)
| Expenditures on air protection: (THS PLN) | 2016 | 2017 | 2018 |
| --- | --- | --- | --- |
| AIR PROTECTION, INCLUDING: | 1,049 | 1,51 | 1,494 |
| BOILER PLANTS | 181 | 424 | 163 |
| TECHNOLOGICAL PROCESSES | 183 | 240 | 308 |
| VEHICLES AND MACHINERY | 32 | 30 | 35 |
| LOCOMOTIVES | 621 | 795 | 960 |
| STEAM LOCOMOTIVES | 13 | 7 | 8 |
| OTHER | 19 | 14 | 20 |
| Expenditures on water protection: (THS PLN) | 2016 | 2017 | 2018 |
| --- | --- | --- | --- |
| WATER PROTECTION, INCLUDING: | 875 | 574 | 937 |
| WATER INTAKE | 372 | 339 | 365 |
| TRANSPORT OF SEWAGE | 296 | 112 | 156 |
| CONVEYANCE OF RAINWATER AND SNOWMELT | 15 | 17 | 23 |
| OTHER | 192 | 105 | 394 |
| Other environmental expenditures: (THS PLN) | 2016 | 2017 | 2018 |
| --- | --- | --- | --- |
| CUTTING TREES AND BUSHES | 167 | 197 | 43 |
| PROTECTION OF THE EARTH'S SURFACE | 108 | 0 | 53 |
| WASTE MANAGEMENT | 1,531 | 1,982 | 2,382 |
| OTHER COSTS FOR ENVIRONMENTAL PROTECTION | 249,415 | 138,91 | 176,903 |
Waste produced by the Group, by main type and volume (t)
Name of waste
Waste Code
2015
2016
2017
2018
Sawdust, shavings, cuttings, wood, particle board
and veneer other than those mentioned in 03 01 04
03 01 05
6.61
1.37
3.92
441.00
Slag, bottom ash and boiler dust
(excluding boiler dust mentioned in 100104)
10 01 01
318.85
364.67
195.31
91.60
Wastes from turning and sawing of ferrous metals and their alloys
12 01 01
204.14
133.43
115.80
56.86
Worn grinding materials containing hazardous substances
12 01 20*
113.18
13.61
13.27
22.28
Mineral engine and transmission oils
13 02 05*
32.31
27.38
8.05
15.24
Other engine, transmission and lubricating oils (lubricants)
13 02 08*
32.95
28.22
24.82
11.12
Worn-out clothes and cleaning cloth
15 02 02*
14.75
24.14
13.04
25.07
Used or unfit for use vehicles that do not contain liquids or other hazardous components
16 01 06
6,896.05
5,184.90
0.00
0.00
Ferrous metals (scrap)
16 01 17
5,521.86
3,194.59
4,244.66
3,652.77
Non-ferrous metals
16 01 18
140.25
16.76
15.84
48.86
Other waste, not mentioned elsewhere
16 01 99
34.25
117.71
127.89
119.19
Worn-out devices, other than those mentioned
in 16 02 09 to 16 02 13
16 02 14
8.12
4.04
10.34
26.99
Lead batteries
16 06 01*
4.40
19.90
8.84
11.63
Iron and steel
17 04 05
52.55
21.70
15.95
10.24
Wood
19 12 07
39.28
13.36
23.39
68.02
Other waste
100.90
168.76
55.53
590.54
Volumen of electricity used (MWh)
Intellectual capital
Innovation
An autonomous dual-mode locomotive
PKP CARGO S.A. cooperates with Pesa Bydgoszcz S.A. and Instytut Pojazdów Szynowych "TABOR" in Poznań to conduct research and development works on constructing an autonomous dual-mode locomotive. The relevant contract was signed at the InnoTrans trade fairs in Berlin in September. It provides that PKP CARGO and Pesa will prepare the technical assumptions and configuration of the designed locomotive, which will be reviewed by the scientists from IPS "TABOR". The second stage will involve design and research works followed by the commencement of the construction of an autonomous dual-mode, electro-diesel, locomotive by Pesa. The first vehicle will be tested by PKP CARGO, which will enable the operation of the locomotive to be checked in the conditions of a normal operation on tracks as well as corrections and improvements to be introduced to its design.
A hydrogen project
Representatives of the Management Boards of Jastrzębska Spółka Węglowa and PKP CARGO signed a letter of intent for joint innovative investment projects focused on the commercial use of hydrogen fuel at the IMPACT'18 conference held in Kraków in June. The document provides, among others, for cooperation in research, analyses, and the future manufacturing of new types of rail cars and shunting locomotives with a hydrogen drive and their later maintenance and operation. JSW and PKP CARGO identified the possibility to pursue joint ventures the key objective of which would be the development of innovative solutions for reduced energy and fuel consumption and exhaust emissions involved in the commercial use of rail cars and locomotives powered by hydrogen. The agreement was joined by H. Cegielski – Fabryka Pojazdów Szynowych in November.
Production of wheel sets
In the Rolling Stock Repair Plant PKP CARGOTABOR in Zduńska Wola-Karsznice a modern line of wheel set production and repairs was put into operation. Thanks to the new investment the Plant will eventually increase the number of repaired units by as much as 150 per cent. The Rolling Stock Repair Plant PKP CARGOTABOR in Karsznice is one of the few in Poland to perform comprehensive repairs of wheel sets for wagons and locomotives. In 2013 the plant started the process of equipping car wheel sets with discs and in 2016 the Company's engineers started work on their own construction. The project was completed successfully. In connection with major demand for wheel sets the project assumed the production of a railway car set with the parameters most sought after in the market. Thanks to obtaining of appropriate certificates, the sets will be able to be marketed in the entire European Union. Also the plant in Zduńska Wola is to extend the catalogues of products on offer. The Management Board of PKP CARGOTABOR decided to continue the construction process in the Plant. Currently intense work is in progress on certification of the next three types of wheel sets. There are also plans to extend the wheel set repair line for locomotives.
Safety systems

The PKP CARGO Group endeavors to ensure maximum client satisfaction by ensuring the high quality of its rail freight transport services in terms of availability, timeliness and safety, mindful of environmental protection considerations and adhering to stringent occupational safety and health and information security standards.
To accomplish this objective, the PKP CARGO Group has put into practice various management systems based on the following international norms and standards:
Quality Management System;
Information Security Management System;
Environmental Management System;
Occupational Safety and Health Management System;
Energy Management System;
Food Safety Management System;
Animal Feed Transportation Safety Management System;
Welding Quality Management System for Metal Materials;
Welding Quality Management System for Rail Vehicles and Their Components;
Integrated Management System;
SMS (Safety Management System);
MMS (Maintenance Management System).
In addition, PKP CARGO S.A., PKP CARGO CONNECT Sp.zo.o., AWT a.s. and Cargosped Terminal Braniewo Sp.zo.o. have the status of AEO – Authorized Economic Operator, which confirms that the entrepreneur meets a number of criteria, which include, above all: compliance with customs requirements, having an appropriate system of managing commercial and transport records, enabling proper customs control, financial solvency of the company, having appropriate security standards and protection, as documented by previously obtained certificates such as ISO 27001. AEO status entitles you to benefit from facilitations related to diligent controls such as: priority service in the event of selection for control, fewer physical and documentary controls or the ability to apply for control at a place other than customs office.
Certificates
Safety Certificate - authorizes the railway carrier to gain access to the railway infrastructure. The document specifies the type and scope of railway operations and consists of:
the part accepting the safety management system valid in the EU (Part A) and
a network part that accepts the regulations adopted by the railway undertaking to meet the requirements necessary for the safe performance of rail services on a given rail network (Part B).
The PKP CARGO Group has Certificates of Security - Part A issued in Poland and the Czech Republic, and Certificates - Part B issued in Poland, the Czech Republic, Germany, the Netherlands, Austria, Hungary, Lithuania and Slovakia.
Certificate of the entity in charge of maintenance (ECM Certificate) - based on the approved MMS System, PKP CARGO S.A. received in 2013 the ECM Certificate confirming its acceptance in the European Union. Thanks to this PKP CARGO S.A. can maintain freight wagons on its own or order them to be maintained by other enterprises, including the subsidiary PKP CARGOTABOR Sp. z o.o.
In addition to PKP CARGO S.A. ECM certificate also have PKP CARGO SERVICE Sp. z o.o., PKP CARGOTABOR Sp. z o.o., and entities from the AWT Group.
Participation in international industrial oragnisations

Międzynarodowy Związek Kolei
UIC – Union Internationale de Chemins de fer
Wspólnota Kolei Europejskich oraz Zarządców Infrastruktury Kolejowej
CER – Community European Railway
Międzynarodowy Komitet Transportu Kolejowego
CIT - Comité international des transports ferroviaires
Związek Pracodawców Kolejowych
Stowarzyszenie Emitentów Giełdowych
Stowarzyszenie Krzewienia Sportu, Turystyki i Kultury "Kolejarz"
AHK - Polsko Niemiecka Izba Przemysłowo Handlowa
PISiL - Polska Izba Spedycji i Logistyki
FIATA - International Federation of Freight Forwarders Associations
KIGM - Krajowa Izba Gospodarki Morskiej
Confederation of industry of the Czech Republic
Svaz průmyslu a dopravy ČR
The transport union
Svaz dopravy

Czech-Polish Chamber of Commerce
Česko-Polská Obchodní Komora
Czech logistic association
Česká logistická asociace
Hafen Hamburk Marketing
Organizacja Współpracy Kolei
OSŻD – Organization for Cooperation of Railways
Koordynacyjny Komitet Transyberyjskiego Transportu
TRANSSIB – Coordinating Community on Transsiberian Transportation
Europejskie Forum ds. Rozkładu Jazdy
FTE – Forum Train Europe
The Chamber of Commerce of Moravian-Silesian Region
Krajská hospodářská komora MS kraje
Asociace bezpečnostních poradců a znalců
Czech Treasury association
Česká asociace Treasury
GCU Bureau
Association of forwarding and logistics of CR
Svaz spedice a logistiky
Sdružení držitelů a provozovatelů železničních vozů
Association of CZ Chemical Industry
Svaz chemického průmyslu
Czech Association of Cleaning Stations
Česká asociace čistících stanic
Zaměstnavatelský svaz důlního a naftového průmyslu
Združenie vlastníkov koľajových vozidel
Sdružení dopravních podníků ČR
ŽESNAD
Social capital

In 2018, PKP CARGO S.A. executed corporate social responsibility projects addressed for company employees or their families, activities focused on environmental protection, as well as initiatives designed to increase the security of transport provided by the Company. The projects have been described in the CSR Best Practice Forum report. The projects addressed the following Social Development Goals:
The social area of ​​the PKP CARGO Group